WHITEFISH PRESS
Gary H. Howells Limited Edition Biography + Letters Volume

Joseph H. Beelart, Jr.
NOTE: This book is Sold Out. If you'd like a copy, we can try and find you one. Please email us at whitefishpress@yahoo.com
DETAILS ON THE LIMITED EDITION
Two Volume Set in Slipcase Containing Signed and Numbered Howells: The Bamboo Fly Rods & Fly Fishing Legacy of Gary H. Howells Limited Ed. Biography and Matching Signed and Numbered The Letters & Correspondence of Gary H. Howells • Limited to 100 Copies • The Companion Letters Volume will not be republished in any form, it is only available through the Limited Edition Two Volume Set.
BIOGRAPHY DETAILS: Howells: The Bamboo Fly Rods & Fly Fishing Legacy of Gary H. Howells
Hardcover with Dust Jacket • Smyth Sewn Binding • 216 Pages • Full Color Throughout • Fully Footnoted with Bibliography • Appendices
DESCRIPTION:
Gary Howells bamboo rods are among the finest ever built. To see one is to experience modern American art; to cast one is to feel wonder that such a magnificent tool can be made. His rods endure; with proper care, a Howells rod will last a lifetime.
In 1948 when Gary was 15 he hand planed his first cane rod. He tied flies and built cane rods to pay for a considerable amount of his university expenses. Then, he joined the Winston Rod Company as their principal cane rod maker. In 1970, after thirteen years at Winston, he left to open his one-man shop near San Francisco. From 1970 until 1997 he made rods under his own name, but never enough to satisfy the demand. For two decades Howells limited rods to one per customer per year, and his annual backorder list was usually sold out at the start of his production cycle. Gary built rods for eight to nine months each year and took three or more months off each year to go fly fishing. He travelled from British Columbia to South America, but mostly he spent his fishing months in "Howells 'West'" of Idaho, Wyoming, and especially Montana.
Howells was an intensely private individual, and he valued his privacy most highly during his fishing sojourns. He once wrote, "I hide in the bushes so my customers can't find me …" Howells was also very secretive about his building techniques; but, with a limited group of rod builders, he willingly shared ideas. Thus, Howells craft lives on.
In this, the first full biography written on Howells, author Joseph H. Beelart Jr. has tapped into archives, private letters, and unpublished material to craft a moving portrait of a true American artist. We've always had Howells rods; now we have the story behind the rods.
As a fly fisherman, Howells was ahead of his time in many ways. In the European tradition, he kept detailed logbooks long before it became a fashionable U.S. practice. He wrote long letters and kept copies as he corresponded with famous fishermen both in the US and abroad.
Howells fishing library was among the finest in the United States. Well-worn bindings show he studied his books. Howells tied over a quarter million flies during his lifetime; many, including some tied late in life for his fishing vest, were exhibition quality.
Howells left us five logbooks, 2,000 letters, 1,000 photographs, as well as boxes of shop receipts, cancelled checks and the like. He was a man who devoted his life to all aspects of the sport of fly fishing. But the personal price he paid for pursuing his love of fly fishing was heavy and his time with us was short. No longer able to fish, less than three years after stepping from his shop, he died, alone.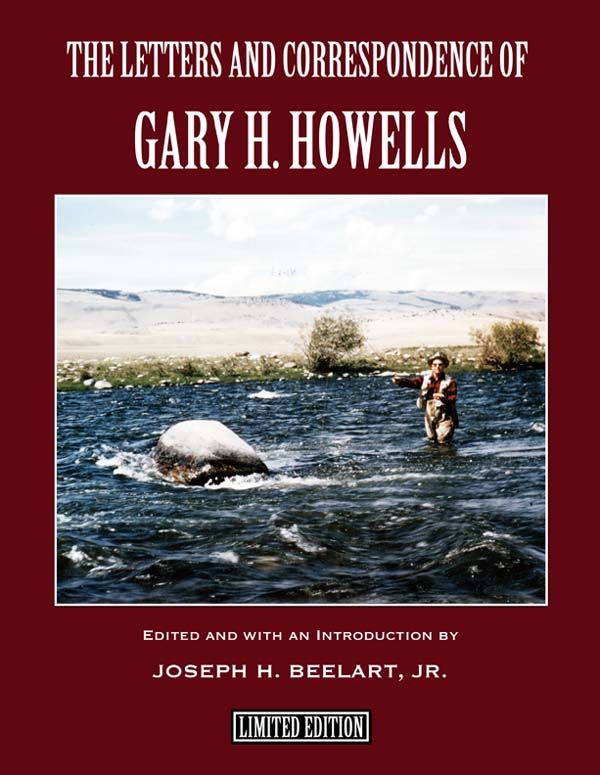 LETTERS VOLUME DETAILS: The Letters & Correspondence of Gary H. Howells
Hardcover with Dust Jacket • 192 Pages • Letters Index • Never To Be Reprinted in Any Form
LETTERS DESCRIPTION:
Gary H. Howells was many things -- a world-class rod maker, a professional fly tier, a thorough student of fly fishing history. But above all else, Howells was a dedicated fly fisherman who spent a minimum of two to three months per year fishing waters ranging from Montana to Argentina. Fishing was the passion in his life.
As a by-product of this passion, he corresponded with a wide range of people on his favorite subjects, fly fishing and fly rods. Collected here for the first time are the correspondence of Gary H. Howells, including letters to and from a number of legendary figures in the fly fishing and bamboo rod making world: Roderick Haig-Brown, Ted Trueblood, Glenn Brackett, Martin Keane, Tom Morgan, Polly Rosborough, Dan Bailey, Walt Carpenter, Andre Puyans, Per Brandin, Dan Klein, Craig Lynch, and others.
A close study of these letters reveals a man with a great depth of knowledge and a zest for life. For Howells, rod making was more than just a vocation, it was an obsession. As he wrote in a 1997 letter to Gary McGuffin, "I don't know why I agonize so over each rod. But I just can't help it. I know perfection is impossible but I just keep striving for it." This incredible attention to detail could allow Howells late in life to write: "If I have any claim to fame, it's that I have never let a rod out of my shop that wouldn't be a superb caster in some competent fisherman's hands." This book is a testament to the veracity of that statement.
Because of the changing nature of the world, we may never get another detailed and intimate glimpse into the life of a world-class rod maker like Howells again. Thus the correspondence of Gary H. Howells is greatly important as a piece of history, but it may very well be something even more: the end of an era when fly anglers penned long and detailed letters to one another, and collected their correspondence to revisit on those cold winter evenings when the thought of rising trout warms the heart and the mind. Enjoy the Howells correspondence; we may never see their like again.
INTERNATIONAL ORDERS: Please note there will be an additional shipping charge due to the great weight of this book. Note that you will be emailed for this additional charge when the book ships. Please email us for details. Thank you!
View full cover image
September 2013, Hardcover, Limited Edition
$199.95 Retail Price
PURCHASE BY MAIL ORDER:
The Whitefish Press